MIS Knee: Uni-compartmental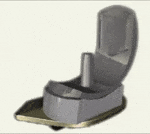 When cartilage damage is confined to a single side of the knee, Minimally Invasive Uni-compartmental surgery may be an option.
For the right patient, this procedure offers the following benefits:
If other conservative treatments, such as pain medication, injection therapy and arthroscopic surgery have failed to provide pain relief, uni-compartmental surgery may offer medium to long-term pain relief
Maintains more of the healthy elements of your knee, resulting in a more natural feel during activities
The potential for reduced hospital stay and less pain medication after surgery
Improved stability during movement after surgery
A more aesthetic scar
Is it right for you?
Millions of people suffer from knee arthritis, which leads to progressive deterioration of the knee joint. Until recently, almost everyone who opted for a reconstructive procedure underwent total knee replacement, which replaces the entire knee joint with artificial (metal and plastic) implants.
With modern implant designs and less invasive reconstructive techniques, knee arthritis patients with isolated knee pain and the presence of arthritis on a single side of the knee may be candidates for partial knee resurfacing with an Uni-compartmental knee. Dr. Parsley can diagnose your condition and recommend the appropriate treatment option for you.
You can find complete information on this device on the Manufacturer's Website.